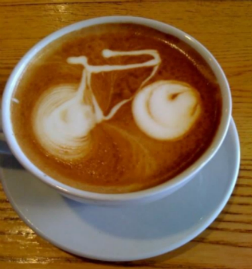 When I was a kid in the late 60's and early 70's I used to ride my bike all over Leucadia and Encinitas. We had a huge backyard; my brother Terry and I built a BMX track and all the neighborhood kids would come over to build jumps, practice on it and race each other. As I got older I got a drop-bar 10-speed and would ride down to Pacific Beach and back along the coast...and the dreaded Torrey Pines hill.
That passion for bikes never went away.
I worked with my Dad in the roofing business through my high school years and then, after a change in our living situation, I went to work at Coast Cyclery in Encinitas. (Formerly McDougall's). There I built and serviced all kinds of bikes. The owners, Bob and Betty Kelley, sent me to bike mechanic school where I was certified. We also sold and serviced mopeds at the time and I attended their service schools as well.
After a move back to construction for 25 years+ the economy went down and I was looking for something else to do for a living – all the while, buying, fixing up, and selling used bikes. One day a friend of mine suggested I start a mobile bike business as Encinitas and the North County seemed to have an affinity for mobile companies such as, Dog Groomers, Dry Cleaners, etc. Providing a service where I would go to a customers home or place a business and repair their bikes on location, thus, eliminating the need to pack up their greasy bikes, haul them to a bike shop to be serviced - only to return a week or so later and pack them back up for the return home.
In early 2006 Tom's Mobile Bike Service was born.
Today, with the help of my wife Katy, we've grown into a family owned and operated business that suits the Southern California lifestyle. Tuning-up and repairing bikes all over San Diego County as well as parts of South Orange and Riverside counties.
It's a lot of fun being outdoors in different locations doing what I love. The really great part...our customers love our service as well.
Hope to see you soon!
Tom and Katy Anderson
Go to Appointment request form
Back to Home page